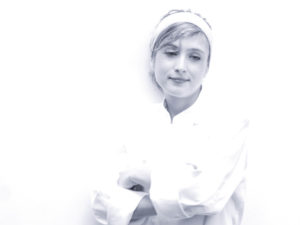 I truly believe that food is the best medicine and the best way to bring happiness and positivity to our lives. Food has power, the power to nourish, fuel, comfort, connect and heal.

My philosophy is about embracing more colorful fruits and veggies and harmless animals products. Limit processed food and refined sugars and choose food that makes you feel your best. By following these guidelines you will easily nourish your body with what you need to feel your best.
There isn't a cure-all or magic diet and I will not advise you any diet. With me, it is about creating healthy habits and inspirations, not restrictions. I also think that the secret is in knowing your body, what it needs to feel 100% you. 
Remember that Food must be enjoyed and appreciated. Balance is the key and remembers that there is not just one definition of being « healthy ». You have to find your definition and I want to help you in that lovely and hectic journey. Be aware and don't beat yourself up, it's easy to get caught up on labeling your eating style with strict do's and don'ts and be flexible about your choices. An unrestricted and gentle approach to food is your best strategy for making healthy a real lifestyle.
I also believe that we have an evolving relationship with food and during different stages of life, we adopt different habits. We are all shaped differently and beautifully. We are not supposed to look the same. Remember that the way you are is you and it will be a shame to not let the real you bloom. That's why we need to let our body direct us, right now, what is good for us. Don't make too many plans and trust the magic of life. Don't count calories, grams of carbs or fats.
Learn to love food, the little things in your routine and all your emotions. All of them will bring you to your masterpiece. 
All that says, you probably already know that my cuisine is inspired by my plant-based diet twisted with Mediterranean and Asian influences, the living foods tradition and from all my travels.
I also do get lots of inspirations from all my training in Michelin Stars Restaurants in France(Le Bristol***, Apicius**, Neuvieme Art**, Georges Blanc***, Kitchen Galerie*).

My cuisine is not just healthy but it is also very tasty and full of « gourmandises ».
My cuisine is about embracing our love affair with food and the traditions that give us so much pleasure. 
Happiness is the spiritual experience of choosing to live each moment with love, gratitude, and grace. Be grateful for each moment that has shaped you. It may not make sense now but it will in the near future.
Let the puzzle pieces of your life come together to create a beautiful masterpiece.
With love and light, 
Faustine