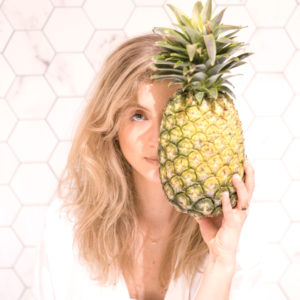 « Future belongs to those who believe in the beauty of their dreams »
Eleanor Roosevelt
My name is Faustine Hug, I am a Private Chef traveling the world and a Food Geographer. I also work as a recipes developer, free-lance journalist (ELLE & Air France Madame) and a wellness coach.
I am passionate about living a healthy lifestyle.
Cooking is my main passion and I cook all day every day to create nourishing and delicious recipes for giving balance in the most exciting ways.
I truly believe that Nature makes us glow and feed our energy and beauty to help us embrace our everyday day life and make our dearest dreams come true.
Through personal experiences, I know that the food choices we make can directly impact our lives for the better and for the worse.
Traveling is also an important part of my journey, it brings me joy to be able to immerse myself in different cultures and learn from them all.
I created this blog to share my passion for food, health, and wellbeing with a true appreciation for flavorsome food that nourishes mind, body, and soul. If I were to inspire you to do one thing in your life I hope it would be for you to be more conscious of what you put in your body. For me, healthy foods are about a lifestyle of abundance, a delicious appetite for beautiful food and an inherent belief that we deserve the best. My cuisine and the way I eat are both positive and are about being in love with life.

A lot of people want to know "what I am" – Aka: vegetarian, vegan, raw foodist, fruitarian, macrobiotic – guess what? I am a person who eats!
I do not like labels. They force individuals to define themselves with very rigid terms and beat themselves up if they suddenly eat something that doesn't fit that definition.
The only thing I know for sure is that I am a "whole-food-lover" and I truly adore fruits and veggies so much! Nothing makes me feel better, think better, and look better than whole natural foods! And the big bonus? I never count calories!  trust me, it's not scary it's so so delicious and liberating!

My cuisine is not just healthy but it is also very tasty and full of « gourmandises » which is essential for me if I want to create a meal which is very memorable.
My cuisine is about embracing our love affair with food and the traditions that give us so much pleasure. With me, it is about creating healthy habits and inspirations, not restrictions.
Through lots of trials, errors, and successes I am so eager to share with you what I've learned during the past 15 years.
My passion for healthy food and healthy living started when I was only 13. The journey was not easy and I felt lost o sometimes due to the battle of my job in the Michelin Stars restaurants, my excessive sweet tooth, and nutrition but now, I know for sure that I found my way and I truly want to share everything with you.
I hope this blog will inspire you to incorporate more fruits & veggies in your diet and find some healthy alternatives without giving up the foods you love the most. Here, you will find the best way to adapt them in a positive and healthy way. Food is such a good way to give us happiness, positivity, and beauty so, let's honor your tastes, your body, and your life.
Are you ready? Let's get cooking!
With love and light,
Faustine
Photo credit: Amanda Twine
« L'avenir appartient à ceux qui croient à la beauté de leurs rêves »
Eleanor Rooselvelt
Faustine Hug, 27 ans, je suis Chef Cuisinière et Géographe des Cultures Alimentaires. Je travaille également en tant que journaliste free-lance pour des magazines (Elle & Air France Madame). 
J'ai fais de ma passion pour la cuisine toute ma vie. La cuisine, les goûts et les produits sont mon obsession quotidienne. Aujourd'hui, ma vie bat donc au rythme des saisons et de leurs produits. Vents, pluies ou rayons orientent mes inspirations culinaires.
C'est une danse infinie qui s'inspire du Monde qui m'entoure, de mes voyages, de mon enfance, de mon imagination et de ma faim. L'énergie de ce monde se racle à la petite cuillère tant il est passionnant et enchanteur !
Je suis également passionnée par les voyages et l'ailleurs. Ils sont probablement ma plus belle source d'inspirations et surtout, de bonheurs.
Ce que j'aime quand je cuisine, c'est de mettre en avant les pouvoirs nutritionnels des aliments en twistant le naturel pour le rendre gourmand, impertinent mais délicieusement innocent.
Le plaisir bienveillant c'est bien meilleur non ?
Mais surtout, cette quête culinaire n'est de ce qui porte mon coeur depuis mes 12 ans : la Gastronomie et une approche holistique de la nutrition.
A travers ce blog, je souhaite  vous transmettre ma passion pour une cuisine décomplexée, vive et plaisante qui met à l'honneur les merveilles de Dame Nature pour manger gourmand mais intelligent.  Fruits, légumes, céréales, graines, oléagineux et racines sont une pléiade de vitamines et minéraux qui nous font pétiller de positivité, de vitalité et de beauté.
La nature permet de mettre mille soleils dans nos assiettes pour rayonner de beauté et de vitalité !
Alors donnons-nous le meilleur !
Suivez-moi à travers ce blog et, ensemble, twistons le naturel, sans pour autant renoncer à nos indispensables « péché-mignon » en étant de véritables chefs et acrobates rusés. Fini l'époque des diètes restrictives, des menus insipides, du moral abattu et de l'énergie qui lézarde. Mangeons en abondance avec passion, intelligence et raison !
Rayonnons de positivité et d'entrain, soyons légers et passionnés, gourmands et raisonnés.
On me demande souvent « ce que je suis » – aka végétarien, vegan, raw foodie, fruitarian… – Vous devinez ? Je suis une personne qui mange et qui adore profondément manger ! Si mon alimentation ressemble certes à la diète vegan, me glisser dans ce moule me donnerait une vision très étriquée de la vie. Deux fois par mois, je me régale avec bonheur d'un excellent morceau de poisson ou d'un œuf douillet. Là encore, je n'ai pas de planning. J'écoute ce que me dis mon corps et surtout, certains moments dans la vie vous poussent hors de vos frontières. L'aventure commence dans l'assiette.
Vous êtes prêts ? Alors, A Table !!
Avec toute ma tendresse…
Faustine