« Invest in your skin, it's going to represent you for a long time« 
I love learning new tips and tricks when it comes to skincare even if I truly believe that the best skincare routine you can have for beautiful skin is to nourish your body with whole plant-based foods. Fruits, veggies and healthy fats are the magic ingredients to get that glowing flourless skin we all dream to have.
For sure, a generally healthy lifestyle will improve the condition of your skin (exercises, fresh air, no alcohol, no tabac, good sleep…).
Even though, I can't deny that I adore having in my bathroom beautiful and powerful beauty products to give extra care to my skin. Taking care of yourself is such an amazing therapy. I love my the moments I devote for a super girly « pampering time » or when I go to a spa, have a massage, pedi and mani or whatever.
Honestly, if you feel sad, go to your bathroom, bring your favorite candle and make your own spa with what you have. It will work!
Today, I thought I'd give you a little sneak peek into my collection and showcase some of my favorites.

So, bubble time shall we?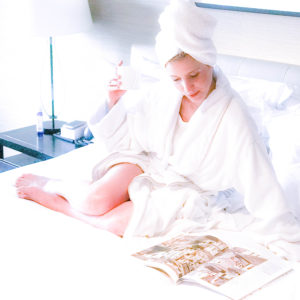 I've never had any struggle with my skin, I am very grateful for that. Until my 18, my beauty routine was very simple: a cleanser, a toner, and a cream to hydrate my skin. For makeup, I only used my favorite blush « rose pétale » from Chanel and my perfume from Guerlain. Nothing else. My mind was concentrated on many other things but absolutely not on the beauty world. However, it was and it's still really important for me to use good quality products. They are all expensive but I guess it's important to invest in yourself. 
I am really picky and never give my love straight away to any products. I always make sure the product I am going to buy is « clean » and without bad ingredients which can, on long term damage my skin. It can be difficult sometimes as there is powerful marketing behind many brands. But, so far, I found many products that I love, trust and use all the time.
CLEANING PRODUCTS
First thing in the morning, I wash my face with a cleanser. My favorite is without any doubt the Pschitt Magique by Garancia. I use it for years and years and it's seriously the best cleaner I ever had. No competition! 
Then I apply a toner. I usually twist with these two: the toner from Darphin, it's free from paraben and contains Neroli essential oil to protect, repair and fight dehydration. I also like this toner from Clinique, a gentle clarifying lotion.

To take the day off and remove my make-up, I use the wonderful  Eau Demaquillante à la rose by Garancia. A must. Otherwise, I can switch with these two cleansing balms by Clinique and the makeup remover for the eyes by Clinique. They are both fantastic.
Two or three times per week I use the mask By Terry Detoxilyn Mask. I also tried the Rose Clay mask by Origins, it's a good one and probably more affordable than By Terry. I really love By Terry and found that their products are very effective and it's such a pleasure to apply them every time. 
Creams & Serums
Serums are essential in a beauty routine as they are well absorbed by the skin and much more concentrated than a cream. I tried many serums but, so far, I am really happy with these two by Dr Dennis Gross and one from Antipodes.
I discovered them when I was in NYC. They are pricy (90$ each) but, they are amazing.
– Serum C+Collagen by Dr Dennis Gross
– Serum Hydratation by Dr Dennis Gross
– Hosana H2O by Antipodes, an Australian brand.  Some natural products are absolutely not effective, but this one is really effective. It's made with rose, cardamom, green grapes, and manuka honey. The fragrance is addictive.
I also recently try some creams by Lancome and I found them very powerful so, I will definitely switch from my basics sometimes or when I will need some changes.
After the serum, I apply either a morning cream or an evening cream.
During the summer or if I am in a sunny country,  the ones I usually use are:
-The hydrated skin for Darphin
– Cellularose by Terry. I adore By Terry, I tried many of their products and they were all amazing.
They are both great for hydration which is the key to fight wrinkles. The more your skin is hydrated, the better and soft your face will be. 
Otherwise, without any competition again, I use on a daily basis the creams of Dr. Dennis Gross (not sponsored I promise). My favorite is this one: the C+collagen cream.
For my lips I adore the Elizabeth Arden 8 hours cream
BODY ROUTINE
To hydrate my body, I have two best friends.The body butter from Suzanne Kauffmann and  The Body cream by Garancia.They are both addictive as their fragrances smell like candies. 
Winter and Summer, they are the best options I found to keep my skin smooth and hydrated.
To exfoliate my body, I use pure sugar scrubs which I find very effective. The Rose oil Body Scrub by Ren is wonderful.
HAIR ROUTINE 
For my hair, I keep everything very simple. I never really go to the hairdresser, even if I love it, I feel that my hairs don't really need it. At home, I keep it simple: shampoo, conditioner and masks twice a week .
I always use natural brands and always use these two: Christophe Robin and Kevin Murphy. I use them for ages now!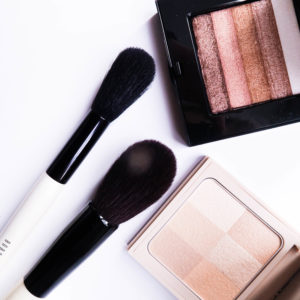 MAKEUP ROUTINE 
Make-up is very personal as we are all different and designed to not be the same. How bored it will be otherwise.
My makeup routine is very flexible and changes depending on my mood, the weather or my work. As everything, I keep it very simple. I have many essentials that I adore and use every day.
I don't use foundation as a base and only use something to just unify my complexion; lingerie de peau by Guerlain. Then I apply a powder to fix it and give more light to my skin.
Then I apply rather a  Bobby Brown blush or the pink blush « rose initial » by Chanel.
For the eyes, I use a classic Chanel black eyeliner and a black mascara from By Terry.
For my lips, I love Tom Ford Lipstick and Charlotte Tilbury lipsticks.

I am not a « bath » person but, I can't deny that a hot bath with a candle lit and some Epson salt or Pink Himalayan salt is a great option to relax and entered in a cozy fluffy evening full of kindness.
I would love to discover new products so do not hesitate to share in the comment section below all your favorite ones.
With Love and Lights, 
Faustine