Sometimes, I feel like I need some changes into my morning routine and love to start with a new breakfast. I love to have something which is healthy, not too heavy but still super nourishing and full of flavors. I usually go for a massive plate of fresh fruits, a smoothie or a protein shake (garden of life @gardenoflife ) but, I can also be in the mood for some chia seeds! ⠀
What I love with chia seeds is that they have many health benefits. First, they are super high in proteins and fibers which is great to boost your metabolism and then, they contain a good amount of fats, which is great and super important for women to balance their hormones and keep their skin clear and glowing! I don't understand why everybody has fears about fats! They are dam delicious and fats make everything perfect! And our body needs them! ⠀
Anyway, chia seeds are fun and easy to cook ! Give it a try, it's feel good sometimes to change some old habits and try new recipes! ⠀
Let me know what you think about this one…
⠀
Coconut and Vanilla Chia Pudding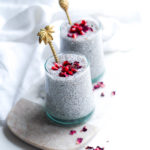 Print
Ingredients
- ¼ cup raw, organic chia seeds @thechiaco

- 1 ¾ cup of Homemade Almond, or if it's not possible to make it, use a store-bought unsweetened brand⠀

- 3 tablespoons of coconut milk (full fat)

- The grains of 1/2 vanilla bean ⠀

- 2 Medjool dates ⠀

- Fruits of your choice ( I love banana or blueberries ..) ⠀

- Note: you can also add tones of flavors into it like cacao, nut butter, matcha, turmeric, pomegranate juice or some coconut yaourt from @coyo_uk@coyo_organic ⠀
Directions
1. Place chia seeds in a bowl.⠀
2. Blend in a powerful blender (I use my new @vitamix) the almond milk, coconut milk, vanilla, dates pitted in the blender until mixed well and desired level of sweetness is reached. Pour over chia seeds and mix well.⠀
3. Let stand for at least 15 minutes before mixing again and serving.⠀
4. Enjoy!
With Love and lights, 
Faustine