Raw Vegan Tahini Brownies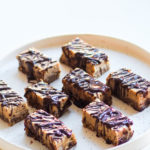 Print
Ingredients
INGREDIENTS

200g tahini (I use raw tahini usualy)

100g coconut sugar

50 cup pure maple syrup or coconut sugar syrup

1 teaspoon vanilla extract

2 organic eggs

70g unsweetened raw cacao powder

1 tablespoon coconut flour

1/2 teaspoon baking soda

1/4 teaspoon salt

1/3 cup chocolate chips

For the chocolate drizzle:

2 tablespoons chocolate chips

1 teaspoon coconut oil
Directions
INSTRUCTIONS
Preheat oven to 350 degrees F. Grease a 9×9 inch baking pan with nonstick cooking spray.
In a large bowl, combine the tahini, coconut sugar, maple syrup, vanilla extract and eggs until smooth and well combined. Gently fold in cocoa powder, coconut flour, salt and baking soda until batter is smooth. Fold in 1/3 cup chocolate chips into the batter. This batter should be rather thick.
Spread batter evenly in prepared baking pan. If it's giving you trouble to spread (because it's on the thicker side), spray a rubber spatula with nonstick cooking spray (trust me, it helps!). Bake for 22-30 minutes or until knife inserted into the middle comes out clean or with just a few crumbs attached. Don't overbake!
After brownies have cooled a few minutes, prepared the chocolate drizzle: Place a small saucepan over low heat, add chocolate chips and coconut oil and stir frequently until melted and smooth. Generously drizzle over the brownies. Makes 16 brownies.