Bali is one of those destinations that has something magic which is hard to define.
In Bali, there is a holistic spirit that can definitely change your life and your soul forever.  Bali sounds to be the perfect place to travel, no matter if you are looking for a quiet beach getaway, an adventurous surfing trip, a healthy foodie exploration or simply if you want to detox your mind and body with a wellness and yoga retreat.
For me, there's no better escape than Bali to flock to the coconut groves of its amazing beaches and endless summer. Bali is my magic place where I love to nurture my body and my soul with delicious healthy vegan foods (even if I am not vegan) and divine spa treatments. Plus, I can't deny that my favorites outfits are light dresses, swimsuits, salty and messy beachy hairs, and sun-kissed skin for my makeup.
I went for the first time in Bali in 2013. At this time Bali was not as trendy as it is now. Bali has become a bustling tourist destination and is now filled with plenty of things to do, see and eat. You will never get bored of Bali or starving !
More wild and less folk than 2013, In 2019, the difference is huge. Bali is now one of the best places to go with all its inspiring vegan cafés and restaurants where you can enjoy a variety of smoothies, juices, smoothies bowls, macro bowls, veggies pasta and others gems from a mindfulness/healthy/divine cuisine. Trust me, I am super picky when it comes from foods. 
Here are my favorite areas of the island to stay and explore!
Ready to dream ? Let's go !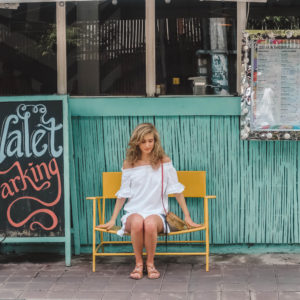 (French)
On en rêve bien trop souvent. Partir loin de son quotidien, sous des cieux bienveillants où chaque rayon, en bon Cupidon, lance au cœur des flèches joyeuses de couleurs étincelantes. Bali. Douce mélodie de tous les coeurs. Bali. Paysages irradiées de beauté sauvage et ébouriffés de soleil, d'eau cristalline et de fruits soyeux tout sucrés…L'escale exotique dont on rêve tous un jour…
Beaucoup disent que Bali perd un peu de magie avec le temps. Soit. La première fois que j'y suis allée c'était en 2013. La deuxième en 2017. Bali a certes changé, mais, la magie du dépaysement est la même. 
Si Bali n'est plus ce Paradis perdu qu'on voudrait tous, Bali est devenu le joyau trendy, chic et vegan d'une Indonésie qui vibre aux doux sons d'une atmosphère bienfaitrice. Bali vous ouvre son coeur avec toute l'innocence radieuse d'un sourire d'enfant. Nébuleuse addictive et attractive, la magie balinaise est inexplicable et doit être vécue pour être comprise. Y aller, c'est accepter de se désarmer de tous préjugés.
Quand vous y êtes, il n'y a plus de guide, plus de planning, plus de conseils à suivre. Il faut vivre Bali. Voilà. On Bali(re).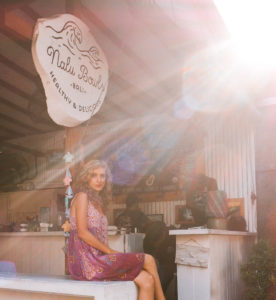 UBUD
Ubud is well known as the place to be if you're looking for amazing healthy eats and relaxation. Lush green rainforests, rice paddies as far as the eye can see and lots of beautiful traditional temples surround the town and make for the most picturesque scenery. Ubud is without any doubts my favorite place in Bali. Why? Because Ubud is like a village where you can just walk around and visit. Love the market there and all the fantastic shops and restaurants.
Where I stayed
I had the absolute pleasure of staying at the luxurious Wapa Di Ume hotel for 8 nights and I would recommend staying there in a heartbeat. It's a luxury Balinese style hotel, extremely quiet, spacious and comfortable.
I also stayed 3 nights at Kamandalu Hotel and adored it.
The hotel is more modern and has a little « international spirit but it is without any doubts a great one.
When I was in Bali a few years ago, I stayed at Alaya Hotel and truly loved it. It's a small luxury boutique hotel with an amazing restaurant and super close to the center. I hightly recommend it. If you love trendy home, food and fashion shopping, like I do, you will be in heaven. 
What to do in UBUD
– Tegalalang Rice Terrace is a must do activity! Stunning views ! Go for sunrise to avoid the tourists.
– Tegenungan Waterfall is also beautiful.
– Ngungngung Waterfall
– Tegenungan Waterfall
– Sunrise Treck to Mt. Batur
– Go to the local market to buy delicious fruits or randoms local souvenirs. Bought so many bags there and baskets for my home.
– Book some spa treatments at this amazing and affordable local spa Taksu.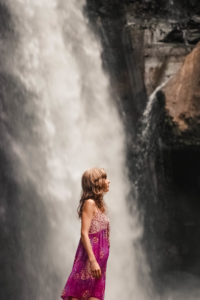 Where to eat in UBUD
– Copper Kitchen restaurant (Bisma Eight Hotel)
– Moksa : the chef is really passionate and impressive. This is for me the best vegan restaurant of the entire island. 
CANGGU & SEMINYAK
Where to stay ?
I stayed near Canggu in a Amazing villa with the group We Are Travel Girls. It was insane ! 10 girls, all passionnate about travels, photography, food and blogging. It was, without any doubts, the best holidays I ever had and, for some reasons, those 10 days with them was a blessing.
During those days, I met my two favorites friends ever with who I now travel the World. Alexandria, the US girl and Amanda, the Aussie girl. They are both travel addict (like seriously!!). Amanda introduced me to photography during our trips to Australia and Japan. Amanda has a blog where she shares all her travels tips and travel guide. Have a look to her blog here. 
Seminyak is the most touristy area of Bali but has some really great places to eat and of course shop. If you're looking to walk around, shop, eat & drink, Seminyak is The place!
What to do in Canggu and Seminyak :
– There are endless boutiques to explore in Seminyak, (less in Canggu but still) selling everything from Island made jewelries, homewares, clothing, and accessories.
Start at Seminyak Square for the market and get lost in the streets around there where you'll find no shortage of beautifully crafted items to take home with you. Be sure to buy a second suitcase to carry them all!
– Watch the sunset at La Laguna and at The Lawn with a delicious cocktail or the juice of a whole coconut ! 
– Go for a Gold facial and GOLDLUST beauty lounge in Canggu.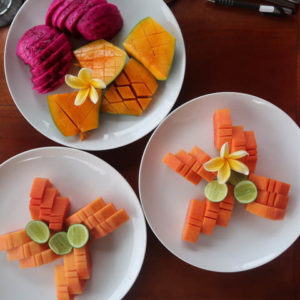 WHERE TO EAT IN SEMINYAK
There are so many options. Really! They are all super healthy and most of them are vegan.
– Shady Shake
– Peloton Superhost
– Drifter Café
– Nalu Bowls
– Sea Circus
– Shady Shake
– The Lawn Canggu
– Betelnut Café
– Kynd Community
– The Spicy Coconut
– Shelter Café
– Hotel Mexicola
– Nook Café
– La Favela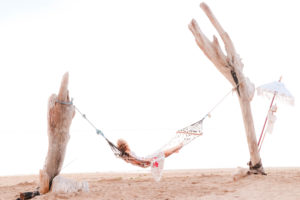 ULUWATU
The most Southern area of Bali is home to some of the most beautiful beaches on the island, as well as some of the biggest resorts. Like the rest of Bali, there are also countless amounts of boutique hotels and guesthouses located in the South if you're looking for a quieter side of Bali, this is a pretty stunning area to relax.
Where I stayed? 
Gravity Hotel: This eco-boutique resort is one of Bali's best-kept secrets, offering beautiful sea view, two cute swimming pools, and great mini houses/rooms. Without any doubts, it's one of my favorites!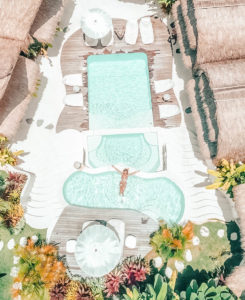 What to do in Uluwatu 
Uluwatu Temple: known for its magical location perched on a cliff 70 meters above sea level, this spiritual temple is an incredible place to watch the sunset over the ocean but be careful of naughty monkeys who might be tempted to tug at your belongings!
– Suluban Beach
– Pandawa Beach
– Bingin Beach
– Kelingking Beach
Where to eat in Uluwatu 
– Cashew Tree
-Bukit Café
– Single Fin Bali 
– Nalu Bowls
With all my love,
Faustine Hug