Raw Creamy Caramel Bar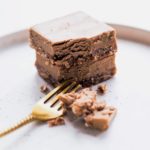 Print
Ingredients
Base layer:

200g raw almonds

100g shredded coconut

6 medjool dates pitted

50g of cacao nibs

Creamy caramel layer :

400g of soaked cashews overnight in cold water in fridge.

3 medjool dates pitted

50g of melted cacao butter

2 tbsp of maple syrup or coconut syrup

1/2 tsp vanilla powder

1/2 tsp cinammon

Toppings :

100g of melted raw dark chocolate

Dried edible rose petals (optional)
Directions
Method :
For the base :
Process the almond to make the base in a food processor. Then, add rest of the ingredients and process until you get a crumby texture that stick together. Add some extra dates if needed.
Layer tin with parchment paper and spread the base evenly. Pop it in freezer while you make the layer.
For the caramel layer : blend all ingredients in a high speed blender until you get a creamy and smooth texture.
Spread it on top of the base layer and pop back in the freezer for around 6 hours or overnight.
Cut the cake into equal slices and drizzle melted chocolate along with rose petals on top.