I have such a sweet tooth. I love chocolate, vanilla and caramel flavours so much. I think this love for sweets is due to the fact of my emotions. Having something sweet is always a peaceful and quiet moment which is always a blessing in my busy private chef life. So, if I can devote a few hours just for me, I would definitely plan to eat something sweet. It could be a massive bowl of fresh exotic fruits, some raw vegan dark chocolate from Ombar and Hu Kitchen or a piece of one of my cake. I try to always eat « healthy » versions of treats as they are nourishing for my body and full of essential nutrients (complex carbs, healthy fats…)
Many of you already know that my favourite flavours are without any doubt: vanilla, dark chocolate, nutty something (praliné, hazelnut cream…) and probably caramel. Let's be honest, if you give me a giant Italian ice-cream with one scoop of vanilla, one scoop of dark chocolate, one scoop of baccio (halzenut and milky chocolate) with some pana montana (Italian chantilly) I am in heaven! Seriously. My favourite shop for this treat is Grom. And, happily, I can find them in all my favourite cities: London, Paris, NYC, in many Italian cities, Los Angeles, Malibu… There is only one which is missing: Tokyo! But they might do it soon.
Tiramisu is a gorgeous decadent Italian dessert. I am not gonna lie, this raw tiramisu is not the easiest of desserts you can whip up, but it's so worth it. With coffee flavour, rich cream layer I and a light dusting of cacao, this vegan tiramisu will impress everyone, even Italians proud of their roots.
I personally thought that the lack of alcohol wasn't a problem at all. I used very rich cold pressed coffee and raw cacao powder which both added to the richness of the Cake. However, if you feel like adding some booze, please go ahead and let m know how it went, so I can add it here in this post. I would say using Amaretto would work best!
With Love and Kindness,
Faustine
Raw Vegan Tiramisu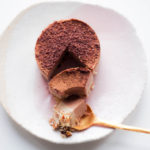 Print
Ingredients
Ingredients


BASE

130g cashew nuts soaked for 8 hours


35g pecan nuts


5 medjool dates pitted


A pinch of Himalayan pink salt



COFFEE LAYER


75g cashew soaked for 8 hours


80g almond soaked for 8 hours


2 tbps coconut sugar syrup

60ml coconut milk full fat


80 ml espresso coffee


1 teaspoon of coconut oil


2 teaspoon raw cacao powder


A pinch of Himalayan salt

CREAM LAYER

150g cashew soaked for 4 hours


170 ml coconut milk


2 tablespoons coconut sugar syrup


1 teaspoon coconut oil


¼ teaspoon lemon juice


1 teaspoon vanilla powder


A pinch of Himalayan pink salt


100g raw dark chocolate. I use the brand Ombar or Hue Chocolate
Directions
 To make the base, put the almonds, pecans and cashew in a food processor (I use my Vitamix) and blend until small pieces form. Add the dates and salt and process until well combined.
You should get a sticky mixture.
Press evenly into a cake tin or in two glasses and freeze while making the coffee layer.
Clean out the food processor to make the coffee filling. Add all the ingredients except the coffee, cacao and coconut oil and blend until smooth. Add the coffee and coconut oil and blend again for 1 minute. Add the cacao and blend again. 
Pour the coffee layer over the base. Pop in the freezer while you are making the cream. 
Clean out the food processor again and then the coconut milk, rice malt syrup and coconut oil and blend until the mixture is smooth and the nuts have a creamy consistency.
Add the lemon juice, vanilla powder and salt and pulse until smooth. Spread the cream over the two previous layers, garnish with some chocolate chunks.